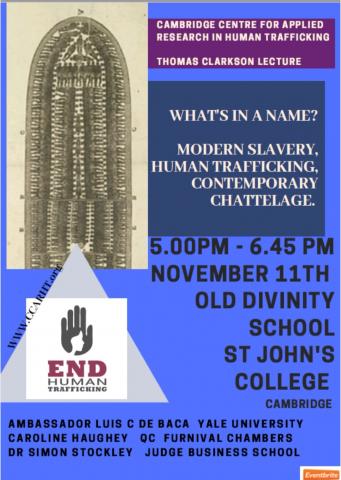 This is the inaugural Thomas Clarkson Lecture hosted by the Cambridge Centre for Applied Research in Human Trafficking (CCARHT), which celebrates the association of the University of Cambridge with the eighteenth century anti slavery researcher and lobbyist Thomas Clarkson, and brings his work and concerns (which focussed on the Trans Atlantic Slavery triangle), into the concerns around Modern Slavery, Human Trafficking and Contemporary Chattelage in our global present.
Tickets are free for University of Cambridge members
We are delighted to have with us for this inaugural Lecture, three signal voices elaborating the challenges of present day prosecutions, unearthing historical lessons from the dismantling of the Trans-Atlantic Slave Trade and the bloody struggle which ensued in the United States in the quest for emancipation and equality, and deciphering the connections of Modern Slavery, Human Trafficking and Contemporary Chattelage with the requirements of neo-liberal 'just in time' economics in our own times.
Our first speaker will be Ambassador Louis C, de Baca (Retd) who was President Barack Obama's appointment as Ambassador at Large to Monitor and Combat Trafficking in Persons (2009 - 2014). Now retired from government service, he is a Visiting Lecturer in Law at Yale Law School, and a Senior Fellow of Modern Slavery at Yale University's Gilder Lehrman Center for the Study of Slavery, Resistance, and Abolition.
Our second speaker is Caroline Haughey QC, who is one of the UK's leading legal experts in Human Trafficking and Modern Slavery. Caroline prosecuted the first case of modern slavery in the UK, ( R-v- SK) and was subsequently involved in the drafting of the Modern Slavery Act 2015. She has prosecuted a number of firsts under the new Act – first child sex exploitation, first child labour exploitation, first victimless prosecution, first interim Slavery Trafficking Restriction Orders. She has vast experience in prosecuting such cases particularly OCG (Organised Crime Groups) and JIT (Joint Investigation Teams) based operations, and successfully prosecuted Operation Fort, the largest labour exploitation and trafficking case in Europe on which a recent Panorama special shed light on for a wider non-legal, viewing public. https://www.bbc.co.uk/programmes/m00085r7.
Our final speaker is Dr Simon Stockley, a Director of the Cambridge Centre for Applied Research in Human Trafficking, (CCARHT), the Deputy Director of the Accelerate programme based in the Cambridge Centre for Social Innovation and Senior Faculty lecturer in Management Practice at the Judge Business School. Before coming to Cambridge, Simon was the Director of the award winning MBA at Imperial College out of which he established one of the first bespoke programmes of entrepreneurial education to be provided in the UK, working with female survivors of trafficking for sexual exploitation. He was for over a decade on the board of the sponsoring NGO for this break-through work, HERA (Her Equal Rights and Autonomy).
As our third conversant of the evening, Simon will raise a novel category, discoursing Contemporary Chattelage which has been mobilised by CCARHT as a particularly useful lens to consider the pervasive exploitation which underpins all engagement with Modern Slavery, and Human Trafficking studies. He will be explore how 'dignity' in human labour, slides inexorably into commoditisation and chattelage when unprotected by constraining laws of participating states. 'Just in Time' global market and labour dynamics, (driving human movement across borders, with inevitable increase in personal risk when facilitated by 'ethically unfettered' criminalised networks undermining frequently contradictory state controls at borders in the name of security, and cultural hegemony), whilst the neo-colonial ground motif of market expansion and privileged consumption, continues.
The evening's presentations and the discussions in the Old Divinity School which will be provoked, will continue the legacy of Thomas Clarkson and the anti-slavery committee which he founded, and his insistence that nobody has the right to 'enslave' another. CCARHT's work is dedicated to facilitating a deeper understanding of the dynamics of contemporary 'enslavement' and human trafficking, and contemporary chattelage.
Language in and of itself 'can never 'pin down' slavery, genocide, war. Nor should it yearn for the arrogance to be able to do so," protested Toni Morrison in her Nobel prize winning acceptance speech reprised in this year of her death. This inaugural lecture however, seeks to bring some pointers, some greater clarity, some disruption of "the order and quietude of everyday life (to) be violently disrupted by the chaos of the needy dead; (so) that the herculean effort to forget (may) ----- be threatened by memory desperate to stay alive."
Date:
Monday, 11 November, 2019 -

17:00

to

19:00
Event location:
Old Divinity School, St John's College University of Cambridge Saint Johns Street Cambridge CB2 1TP