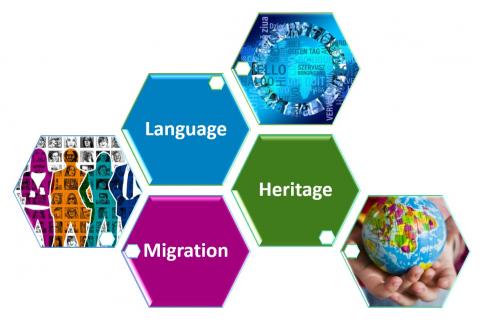 Language and heritage play an important role in the process of global human movement and in the experience of transnational migrants. In this strand we seek to establish a new field of interdisciplinary scholarship which spans multiple disciplines and to link together three university research initiatives on 'language', 'heritage' and 'migration' in particular.
The programme focuses on a core question pertaining to in what way we can capitalise on the 'language heritage capital' in homes, schools and communities to support migrant children's learning, integration and mobility across the life span. It builds upon the groundwork of Cambridge Research in Community Language Education Network (https://www.educ.cam.ac.uk/networks/cricle/) established in 2014 which brings together policy makers, practitioners, academics and research students in the Cambridge area to examine critical issues in relation to language heritage in the context of education and schooling of bilingual children on the move. The programme includes three strands of research, each with a distinctive theme:
Theme 1: Supporting bilingual migrant children's learning and language development through creative arts and new technologies
Theme 2: Understanding the role of language heritage in migration and settlement through history and narratives
Theme 3: Developing evidence-based interventions to inform social policy on language maintenance, social integration and well-being of migrant children
The programme continues to build cross-sector and cross-discipline dialogue to define this new field of scholarship and seeks creative ways to engage policy makers and inform policy making.
---
 
 
Convener:
Yongcan Liu
 
 
 
 
Participants:

Participants of this programme include scholars across the disciplines of Modern Languages, Linguistics, Anthropology, Asian and Middle Eastern Studies, Education, History, Engineering and Computer Science. Research and impact work of this strand also involves professionals across sectors such as local governments; health service; schools and communities; race, ethnicity and diversity services; child care and protection; Black, Roma and Travelers communities; and refugee communities.

 

 

In Partnership With:

Cambridge Community School Leadership Forum

The Leadership Forum comprises of the following local groups:

 

Cambridge Research in Community Language Education (CRiCLE) Network was established in 2014 as a research and impact initiative supported by the Newton Fund. Hosted by the Second Language Education Group (SLEG) in the Faculty of Education, it provides a research forum where policy makers, academics, practitioners and research students in Cambridge, and more broadly at national and international levels, can engage in critical debates on language, heritage and migration. The vision of the network is to establish a local University-School-Community Partnership and an international Research Consortium to promote the value of community language and multilingualism in education, integration and well-being of migrant children and youth.

 

Cambridge Ethnic Community Forum (CECF) is an umbrella organisation for Cambridge and district that provides racial equality services to individuals and groups.  CECF provides a cultural diversity service that helps promote an understanding between people from different ethnic groups and help them be a natural part of Cambridge life. We give special social, cultural, moral and practical support to groups and develop particular projects where needed.  One of our key services is the Cambridgeshire Human Rights and Equality Support Service (CHESS); also developing a refugee service.  CECF is part of the Cambridge COVID -19 City Community Reference Group, involved in supporting the community response to the Covid-19 public health emergency.

Webpage: https://cecf.co.uk/

 

Cambridge Bilingual Groups is a voluntary group that provides support for groups and supplementary schools for bilingual children in and around Cambridge. The main activities are teacher and manager training, provision of networking opportunities and 1:1 support. Cambridge is home to 1,000's of international families that use two or more languages. However, as their children grow, many parents find that it is difficult to convey their language and culture on their own. This is why Cambridge nourishes a rich environment of more than 30 supplementary schools and groups for bilingual children and their families.