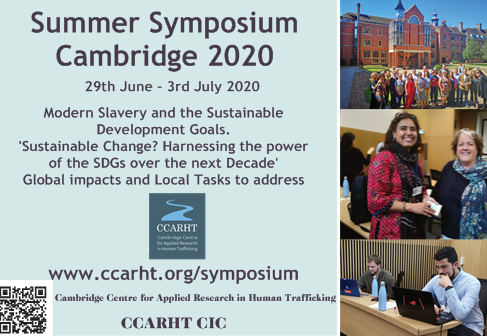 In the heart of the University of Cambridge.
With a decade remaining before the initial deadline of the Sustainable Development Goals (SDG), we shall be exploring various aspects of the SDGs and their implication in building resilience against Human Trafficking and Modern Slavery, and unpicking the 'arbitraging' of advantage which currently taking place globally, as traffickers undermine efforts towards economic stabilisation, geo-political transparency and social equality.
If you have a paper you would like to develop for the symposium – please be in touch with symposium@ccarht.org so that you can be considered for inclusion in what is fast emerging as the 'go to' symposium for forward landscaping of the challenges which we face in addressing the multi-headed hydra of Human Trafficking processes, and the human rights devastation of Modern Slavery.
Date:
Monday, 29 June, 2020 - 09:00

to

Friday, 3 July, 2020 - 17:00