There is an urgent need for scalable, sustainable and replicable models of job creation for refugees, and technology has the potential to provide this. Yet, this potential has not been fully realised for refugees. The current disruption to employment cased by COVID-19, forcing many to work from home, has emphasized the potential for some work to be done remotely, via technology. It has also tested companies' ability to quickly adapt and reconceptualise the way they work. As many companies now realise that their employees can work anywhere, from home, from a cafe or even from a refugee camp, this has presented an opportunity for refugees. Digital livelihoods do not always need high technical skills, there is a range of work that can be done this way and it is worth exploring these issues for refugees. 
Joining us from across the globe will be frontline organisations
Chams, Na'amal, Re:Coded, Refugeework.net, NaTakallam
as well as refugees working with them. The panelists will
 provide an insight into the opportunities for remote sustainable digital livelihoods for refugees. We will speak to organisations that provide both the technical and soft skills for refugee remote work in the Middle East as well as provide an over of digital livelihoods for refugees in general.  
Some questions to be addressed:
What is the status of digital livelihoods in the Middle East? 
What measures need to be in place for remote work to be considered
a viable option? 
What are the challenges and how can these be addressed?
What are the crucial skills for refugees to possess to be
successful ?
If you are interested in attending this Zoom meeting then please email us at info@humanmovement.cam.ac.uk
Panelists:

Sofiane Ammar is the founder of  Chams. He spent more than 32 years in Telecom, IT and Digital businesses as a serial entrepreneur and as an active business angel.  He was  one of the shareholders and CTO of ISDnet (the first independent French Internet Service Provider in 1996-2001) that was sold to the UK Telco Cable & Wireless. He managed global teams in 3 continents as a European Vice-President 'Internet Product and Operation' and as Vice President of  Global Network Operation Center for Cable & Wireless.  He is a shareholder in European incubator TheFamily, and VC funds Partech and Daphni. Chams is an international NGO based in France (Marseille), with an ambition to empower refugees by teaching entrepreneurship through coding and soft skills. The result ultimately is to connect them with job opportunities in the ICT and Digital sectors globally. It's a low volume and high touch approach bringing selected refugees to be a role model for their communities. Chamnms plan to train 10,000 young coders from the refugees camps run by the United Nations High Commissioner for Refugees (UNHCR) and the host communities through a global program in the Middle East and Africa.

Lorraine Charles is a Research Associate at the Centre for Business Research, University of Cambridge and the Geneva Centre for Security Policy. She is also Project Affiliate for Refugeework.net, a research project at the University of Edinburgh, which conducts research on digital livelihoods for refugees. She is co-founder and director of Na'amal. Na'amal is a UK registered social enterprise that facilitates the transition of refugees and vulnerable populations to dignified remote work. Through Na'amal's strategic partnerships with NGOs, the private sector, education institutions, foundations and international organisations, it aims to address the potential obstacles that these populations encounter in accessing dignified remote employment.

Marcello Bonatto is a development innovation expert with over 10 years global experience in education advocacy, humanitarian aid and innovation in development projects. Prior to co-founding Re:Coded, Marcello led human rights and peacebuilding programs in Myanmar, Bosnia, Colombia, and West Africa, as well as managed diplomatic bilateral projects between Brazil and Canada for four years. Marcello holds a Masters in International Affairs from Columbia University where he was a Lehmann fellow and a Bachelors of Communication and Journalism from Pontificia Universidade Catolica de Rio de Janeiro. Re:Coded is an innovative tech-for-good non-profit empowering talented youth affected by conflict to thrive in today's technology-driven global economy as software developers, entrepreneurs and technology leaders. Re:Coded's activities include coding and design bootcamps which bridge the education and employment divide for youth, a co-working space (Re:Coded House), and tech workshops and events. Re:Coded operates across three countries (Iraq, Turkey and Yemen) and has been widely recognized in the media (CNN, BBC, Le Monde and Reuters) as one of the most innovative education and employment models for refugees and marginalized youth in MEA. They have also been awarded a Google Rise Award and Finalist Award for the MIT Innovate for Refugees competition for their work.
Dr Andreas Hackl is Lecturer in the Anthropology of Development at the School of Social and Political Science, University of Edinburgh. He leads  the two-year research project on digital refugee livelihoods and digital labour. Andreas has previously worked intensively in Israel/Palestine, both as an anthropologist and as a journalist. Refugeework.net is the website behind the research project 'Digital Livelihoods' hosted at the University of Edinburgh and it is funded by the Economic and Social Research Council UK. The project explores the changing role of digital skills and digital work from the perspective of migrants and refugees, with a focus on two cities: Beirut and Berlin.

Lydia Bassaly joined the NaTakallam team as the Head of Recruitment & Translation Services in 2017. Her work has included recruiting highly-skilled refugee translators in 10+ languages, expanding the translation client base from 2-3 clients to over 60, and implementing quality measures in place. Lydia is Egyptian-born, American based, and holds a Masters from Columbia University in International Affairs, concentrating in Human Rights studies. NaTakallam ('We speak' in Arabic) offers high-quality, curated language services delivered by refugees and displaced persons through the gig economy.These services include translation, online language teaching, as well as cultural exchange sessions. To date, displaced persons have self-generated over $750,000 through NaTakallam, connecting with over 6000 unique users in 90+ countries. While born to support Syrians teaching Arabic, NaTakallam's language sessions are now offered in French (with refugees from Congo DRC, Burundi, Guinea), Persian (with Iranians and Afghans) and Spanish (with Venezuelans and Central Americans).
Ghaith Alhallak is originally from Syria but had to leave due to the intensifying conflict. He first moved to Lebanon where he spent 5 years writing articles as a freelance journalist and Arabic teacher. After 5 hard years in Lebanon, Ghaith was resettled to Padua, Italy, where he started a new life. He is currently studying Political Science at the University of Padua. Ghaith loves talking about everything, analyzing socio-political events, and football. He has acquired solid teaching and conversationalist skills by working with NaTakallam's students from all over the world in these last 3 years. Ghaith has also translated for a few companies and organizations through NaTakallam, including Hilton, WeWork, the International Rescue Committee and others.
Abdelnasser Alkhellow is a web developer working for Thinkific, a Canada-based company offering a software platform that enables entrepreneurs to create, market, sell, and deliver their own online courses. Nasser, as his friends call him, is from Aleppo, Syria, where he graduated from the University of Aleppo in Medical Electronics Engineering. With no prospects of a job and further education during the civil war, Nasser decided to move to Turkey to fulfill his dreams. He got a job at an IT company and later joined Re:Coded's Coding Bootcamp in Gaziantep. Today, Nasser lives in Istanbul, where he works remotely for Thinkific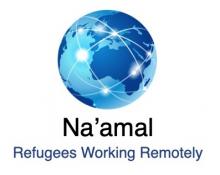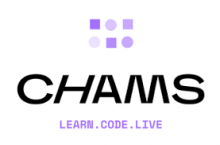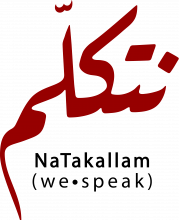 .
Date:
Friday, 12 June, 2020 -

14:00

to

15:00