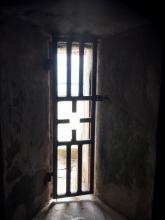 2019 marks 400 years since the first enslaved Africans arrived in the United States.
"The Year of Return" celebrates the cumulative resilience of all the victims of the transatlantic slave trade who were scattered and displaced through the world in North America, South America, the Caribbean, Europe and Asia. Set during the Black History Month, this panel explores contemporary lives in the diasporas and the remaining significance of return.  
Our panel:
Monica G. Moreno Figueroa, Sociology, Unviersity of Cambridge

Monica G. MorenoFigueroa is a Senior Lecturer in Sociology, Fellow in Social Sciences at Downing College and the Race Equality Co-Champion at the University of Cambridge. With Dr Manali Desai, she co-leads the Decolonising Sociology Working Group. Her research
focusses on the lived experience of 'race' and racism with a focus on Mexico and Latin America; feminist theory and the interconnections between beauty, emotions and racism. Monica is an award-winning teacher and pioneering advocate of education as a form of
social change.

Kwaku, BritishBlackMusic.com

Kwaku is author/editor of a number of books, educator specialising in black music and African British history, editor of BritishBlackMusic.com (BBM) and its newsletter,
and the lead on African Histories Revisited and the Look How Far We've Come...? resources and projects.

Ariadne Henry, Cambridge City Council

Ariadne Henry is a Community Development officer at Cambridge City Council working with the Equality and Diversity groups. She was formerly an Occupational
Therapist, and has worked in a wide range of health and community health settings.

Johnhenry Gonzalez, History, University of Cambridge

I am a historian of the Caribbean, with a primary focus on the history of Haiti. My work grows out of lengthy periods of research in Haiti and the Dominican Republic. My 2019 book on the early history of independent Haiti focuses on systems of land ownership and crop production devised by the former slaves who overthrew the plantation system of colonial Saint Domingue.
Date:
Wednesday, 30 October, 2019 -

16:00

to

17:30
Event location:
Michaelhouse Cafe, Trinity St. Cambridge CB2 1SU