Submitted by Di Kennedy on Tue, 26/05/2020 - 11:33
---
Please find here the video of our second episode in a new series "Global Conversations - Frontlines during Covid-19." 
We were joined from San Antonio, Texas, by Mr Isaac Bencomo, who is part of efforts aimed at delivering primary and emergency care to displaced and migrant populations in Matamoros, Tamaulipas in Mexico. He explored the situation of refugees and migrants at the US-Mexico border, particularly at the Brownville-Matamaros complex, the impact of the Migrant Protection Protocols and the contemporary health concerns of camp populations in Matamoros in light of Covid-19. As part of Global Response Management, Isaac is part of prevention, fortification and treatment measures for both the camp and its surrounding populations during Covid-19. 
---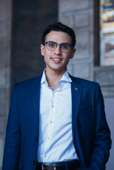 Originally from Ciudad Juárez, Mexico, Isaac Bencomo traveled across the border into the United States to attend school in the city of El Paso, Texas. He currently works in the Pediatric Intensive Care Unit at the Children's Hospital of San Antonio and as a healthcare provider at a migrant camp in Matamoros, Tamaulipas through Global Response Management, a medical NGO providing emergency pre-hospital care to those displaced from conflict zones or through migration. Isaac also serves as the organization's official government liaison in Mexico. Isaac was recently selected as the Mexican Delegate to the British Council's Future Leaders Connect program which promotes young emerging leaders who seek to have a global impact through public policy. Isaac has earned his Bachelor of Nursing and continued his training in emergency medicine and intensive care. He has a Master of Science in Nursing with a subspecialty in Pediatrics. He developed a keen interest in global health and health policy, after working on research focusing on the impact of service learning and community outreach in vulnerable populations. In the wake of the migrant crisis on the U.S.-Mexico border, he has collaborated with medical and humanitarian relief organizations and other pediatric physicians providing patient care services. Isaac developed a set of policies to formalize the medical screening protocols that are now implemented at migrant shelters.