Submitted by Di Kennedy on Mon, 07/10/2019 - 15:24
---
No Place Like Home? Policy Workshop on refugees and forced displacement
Sponsored by The Centre for the Study of Global Human Movement
Workshop Organizers: Sigrid Lupieri, Adam Coutts, Annamaria Motrescu-Mayes
Summary of the event

On Friday, 20 September, scholars, policymakers and participants with a refugee background gathered at Clare Hall for the workshop No Place Like Home? New Perspectives on Displacement and the Modern Refugee System.
Panel discussions saw attendees reflecting on the future of 'durable policy options' for refugees and on the need for a more global and comprehensive framework for responsibility sharing and support for host communities during refugee crises. In fact, to date international responses to refugee crises have mainly focused on three 'durable options': third-country resettlement, local
integration into host communities, or volunteer repatriation.
These policy choices, however, are failing to overcome the challenges of declining resettlement opportunities, resistance from host countries, and prolonged conflicts in countries of origin. As a result, two-thirds of refugees currently live in a protracted situation.
Report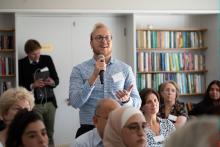 The packed day of presentations, discussions and networking featured keynote speeches by Sir Stephen O'Brien (former Under-Secretary General for Humanitarian Affairs), Sanjayan Srikanthan (Executive Director, IRC Europe), and Professor Alexander Aleinikoff (Director of the Zolberg Institute on Migration and Mobility, The New School in New York City, and former UN
Deputy High Commissioner for Refugees).
The day was further broken down into several panel sessions which focused on the limitations of the current refugee system, the challenges of delivering healthcare to refugees in the Middle East, and the future of 'policy options'. Here, panelists discussed challenges – such as attacks on aid workers - and the overall failure of global political systems in protecting vulnerable refugee
populations. A last panel called 'Question Time' allowed for a more in depth discussion among panelists and members of the audience about the way forward and ideas for the future. In particular, speakers and attendees focused on the need for involving women in peace processes, and on the role that regional organizations can play in promoting peace and security.
Other speakers included:
• Dame Barbara Stocking (former NHS director and chief executive of Oxfam GB)
• Akihiro Seita (Director of the Health Programme and WHO Special Representative UNRWA, Amman)
• Philippe Leclerc (Representative of UNHCR, Greece)
• Dawn Chatty (Emeritus Professor of Anthropology and forced Migration, University of Oxford)
• Fouad M. Fouad (Assistant Professor of Public Health Practice, American University of Beirut)
• Richard Sullivan (Professor of Cancer and Global Health King's College London)
• Alexandra Chen (Child Protection and Mental Health Specialist)
• Elspeth Guild (Jean Monnet Professor of Law Queen Mary University of London Partner Kingsley Napley)
• Tugba Basaran (Deputy Director of The Centre for the Study of Global Human
Movement, University of Cambridge)
• Wesam Al Asali (Department of Architecture, University of Cambridge)
• Aula Abbara (Consultant in Infectious Diseases/ General Internal Medicine, Imperial College, NHS Healthcare Trust Honorary Research Fellow, Imperial College, London)
• Lorraine Frisina Doetter (Project Director Research Center on Inequality and Social Policy, University of Bremen)
Other funders and partners include the Global Challenges Research Fund, Clare Hall, Research for Health in Conflict (MENA), Cambridge Global Challenges, and the Centre for Business Research.
Next steps

The overall aim of the workshop is to build a network among scholars, policymakers and refugees to find avenues for collaboration, and to help bridge the divide between those who formulate international policies, those who implement them, and the refugees who are ultimately affected. To this end, the workshop also included a presentation from Cambridge Global Challenges on funding opportunities and support offered to both scholars and practitioners.
Future next steps include writing a policy brief based on the discussions brought forward during the workshop, publishing a podcast, and exploring further ideas for seminars and avenues for collaboration.